Welcome to my website which describes the organizational and social transformation work I have been doing since the mid-1980s. Prior to that time I was a businessman/entrepreneur.
Here you will find more information about me, some videos and podcasts, the services I offer, summaries of my books and speaking topics as well as links to articles, past newsletters and guest blogs.
Featured Video
Watch John's presentation at Bentley University about Conscious Leadership
C
reate the future you want..
"The quality of the life and work of modern human beings – and the legacy they leave to successive generations – can be incredibly improved by making everyday choices more consciously."
- John Renesch
L
eadership qualities..
"True leadership comes from within, not from external trappings; you see the real leaders when things get tough and courageous actions are called for."
- John Renesch
T
echnological paths..
"If we are on a path of getting nowhere fast, technology is allowing us to get nowhere faster and faster.."
- John Renesch
John Renesch's Mini-Keynote Editorials
cover a range of of thought provoking  topics.
---
John's Latest Book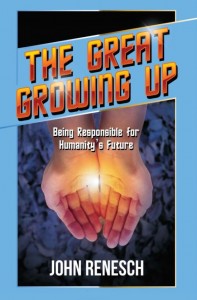 The Great Growing Up is about an urgent collective choice: to opt for responsible adulthood over the largely adolescent ways we have been relating to one another and our planet Earth.
---
John's Guest Blog


John regularly contributes articles to the Global Dialogue Center.