Welcome to my website which describes the organizational and social transformation work I have been doing since the late 1970s. Prior to that time I was a businessman/entrepreneur.
Here you will find more information about me, some videos and podcasts, the services I have offered, summaries of my books and speaking topics as well as links to articles, past newsletters and guest blogs.
Featured Video
Watch "A Maverick Futurist's Global Vision: with John Renesch" – a bit over four minutes long.
reate the future you want..
"The quality of the life and work of modern human beings – and the legacy they leave to successive generations – can be incredibly improved by making everyday choices more consciously."
– John Renesch
eadership qualities..
"True leadership comes from within, not from external trappings; you see the real leaders when things get tough and courageous actions are called for."
– John Renesch
echnological paths..
"If we are on a path of getting nowhere fast, technology is allowing us to get nowhere faster and faster.."
– John Renesch

John is cofounder of FutureShapers, LCC
---

John's Mini-Keynote Editorials cover a range of thought provoking topics.
---

---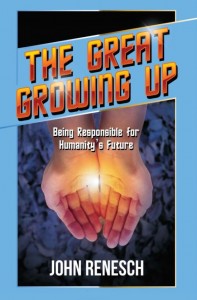 More about John's book and read his monthly blog postings.
---


John regularly contributes articles to the Global Dialogue Center.