JANUARY 2008
In this issue:
1. Newsbits
2. January Editorial: "When Doing the Right Thing Becomes the Smart Thing To Do"
3. Preview: Next Month's Editorial
4. Quote of the Month – Mahatma Gandhi
5. Hot Link of the Month
6. Want to Blog?
7. "Click and Play" of the Month
1. NEWSBITS
Come Blog With Me
Each month I post a new theme on my 'Exploring the Better Future' blog at Global Dialogue Center. Readers are invited to check it out and post a comment if so moved. Recent themes have included:
If I'm So Sane the World Must Be Nuts!
Are We Willing to Change or Have We Lost the Will to Live?
Don't Get Even….Get Mad!
'Wise Ones' Gather in Sedona Later This Month
I've been asked to participate in a Saturday gathering titled "Visioning the Future," an interactive forum on Saturday, January 27, sponsored by The INNstitute at Sedona. This forum will feature many of the "wise ones" featured in the movie "In Search of the Future" see for program details and registration information.
2. JANUARY EDITORIAL
I hear it almost every day: "It was the right thing to do." But how often is this heard in the average corporate environment? In most corporate cultures the normal attitude – even if unstated – is "it was the smart thing to do" which usually means it was politically expedient. In this context, "smart" means one played it safe, didn't stick their neck out very far and most of his/her peers agreed it was a wise decision.
Imagine a corporate culture in which the everyday decisions and choices are not only viewed as "politically smart" but as "the right thing to do" – that is they are both moral and ethical, regardless of the potential political fall-out. Wouldn't that be refreshing?
The right thing to do is decided in the conscience of the individual. It is not decided by an adopted code or industry standard. It is not a clever loophole to avoid reciprocity. It is "right" because it is right. It isn't necessarily convenient or popular but it is the correct action based upon one's sense of fairness and the best choice for the "whole." It does no harm.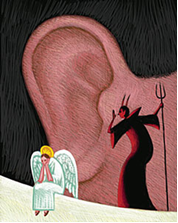 Illustration courtesy of Fotosearch.com
In an organizational setting, choices can be excruciating difficult. "Moral dilemmas" they have been called. Have you been there? Have you been on the cusp of a choice in which you were up against such a decision – one voice in your head telling you do one thing and another urging you to do something else? As I wrote in Issue #109, many managers and organizational leaders compromise their sense of rightness every day by choosing what the system seems to be asking them to do. They "go along" with what they think the system expects from them. The funny thing about this is often their assumptions are figments of their imaginations and their co-opted behaviors serve no one (see Issue #84 for an example).
Despite the pathological nature of this co-opting and compromise in the choices leaders make, the decisions are often viewed as the "smart thing to do." This is how co-opting is so widely condoned in the corporate cultures in which it occurs. It seems "reasonable" that people with ambition should make politically savvy decisions if they want to advance their agendas, get promotions and achieve success as defined by the mainstream consensus. This "reasonableness" is what reinforces the dysfunction so prevalent in today's modern organization (see Issue #112).
Functionality, integrity and morale in our organizations will be restored when people in them start making choices based upon doing the right thing and refusing to co-opt themselves, mortgaging their souls and convincing themselves their actions are justified by their desire to get ahead. This co-opting pollutes the very cultures in which they work. We who co-opt ourselves are keeping the dysfunction in play! Like the famous cartoon character Pogo said many years ago, "We have met the enemy and they are us."
How do we restore integrity to our workplaces? Where do we start?
Obviously it begins at home, with each of us. This may include simply resolving never to compromise yourself again and damn the consequences. Or it could mean being more strategic, such as laying some ground work with your co-workers, building some agreement for this new way of being and working together. Another possibility is to approach "the powers that be" and ask if they'd be willing to engage in a cultural transformation where smart choices are also right choices. If you think this is too risky, you might consider contacting an organization design consultant or an executive coach and enlist their support. These professionals have experience in taking on these challenges for other clients and might offer you wise counsel regarding a strategy.
Each of us makes thousands of choices every day. Most of these choices are subconscious but some are well within our awareness. If they are not, we have more work to do in becoming more aware of what we are doing and why we are doing it. Each choice we make has a consequence. It either enlivens us or diminishes us. It expands who we are or contracts us. A or B? Chocolate or vanilla? Like I pointed out in my blog "Choices, Choices, Choices" this is how I can create the reality I wish to see in the world. This is how the right thing becomes the smart thing.
Will you join me in creating the new reality?
__________________________
3. NEXT MONTH'S EDITORIAL: "Becoming a Pragmatic Idealist"
4. QUOTE OF THE MONTH:
"The difference between what we do and what we are capable of doing would suffice to solve most of the world's problems." – Mahatma Gandhi
5. HOT LINK OF THE MONTH:
Awakening the Dreamer Symposium: a four to six hour workshop that explores the link between three of humanity's most critical concerns: environmental sustainability, social justice and spiritual fulfillment; hosted by Pachamama Alliance; allows participants to gain a new insight into the very nature of our time and the opportunity we have to shape and impact the direction of our world with our everyday choices and actions.
6. WANT TO BLOG?
My blog – "Exploring the Better Future" – is located at the Global Dialogues Center; take a look and post your comments. I'd love to hear from some of you subscribers!
7. "CLICK & PLAY" OF THE MONTH: (see Audio and Videos)
Business News Network interviews John on consciousness in business on Canadian TV (6 minutes +)