APRIL 2008
In this issue:
1. Newsbits
2. April Editorial: "The New Emancipation Proclamation"
3. Preview: Next Month's Editorial
4. Quote of the Month – Arlin Adams
5. Hot Link of the Month
6. Want to Blog?
7. Click and Play of the Month
1.NEWSBITS
Global Mind Change Video
Global MindShift has a short video clip out using the recorded voice of Willis Harman (1918-1997) and adding graphics. Pretty powerful even after more than ten years! See Global Mind Change video
Maxed Out on Social Networks
I have been getting lots of invitations to join colleagues in Plaxo Pulse (I guess they have been promoting themselves fairly heavily lately) but am ignoring them since I belong to as many networks as I can handle now and am not interested in joining another social network. Please don't take it personally if you are one of the people who's added me to their Plaxo Pulse invitation list and I don't respond.
John's Work Cited Among Definitions of Leadership
A recent Internet search revealed a reference to my work that warmed the cockles a bit. A site named Leadership Gurus cited some of my writing on conscious leadership among three definitions they selected thusly: "There are over 1,983,980 definitions of Leadership and Leadership Characteristics on the internet. Here are 3 that we found to be Profound." It is nice to be recognized.
2. APRIL EDITORIAL
When Abraham Lincoln signed the Emancipation Proclamation in 1863, he set the wheels in motion to make slavery and indentured servitude illegal. It still took some time to establish new laws to follow up the two executive orders that came from the White House. The Proclamation became the law of the land when the Thirteenth Amendment to the United States Constitution was passed two years later, officially abolishing and prohibiting slavery.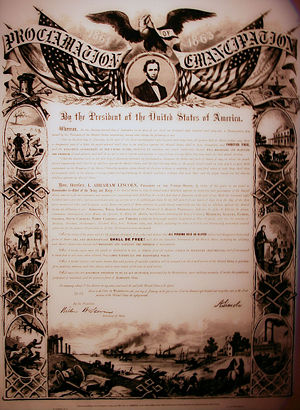 Reproduction of the Emancipation Proclamation courtesy of Wikipedia
Today we have a new kind of slavery. Many of our citizens have become indentured servants to corporate cultures, community traditions, long-standing practices and genealogical or ethnical behaviors. People belong to multiple cultures from their family and ethnic heritage, education and community influences, industry and corporate practices, gender and religious adaptations, and many, many more. Like Gulliver tied down by Lilliputians, we all have dozens and dozens of these "strings" tugging at us, each having some influence on our everyday actions and decisions.
These strings of practice, tradition, habit, ways of doing things, expectations and even language are systems. They are manmade ostensibly to better serve the people who created them. They are products of the human mind, initially intended to benefit us. One example is the family unit which allows its members – particularly its newest members – to survive. Some of the systems to which we belong have differing degrees of influence on us. Families, obviously, can be huge influences for better or worse. Many systems are more functional than others. An industry was formed as different business owners and practitioners sought common ground to improve what they did. Companies were formed to better serve customers, reduce prices and/or leverage human capital. Governments were created to provide for the common welfare of the community. Schools were started so education could be more readily available to more children. Here are a few examples of some systems which we allow to influence us today:
Books we read
Careers, professions, jobs
Communities
Companions/peers/friends
Education at all levels
Ethnicity
Family
Food and diet
Government
Hobbies
Laws to which we are subject
Love relationships
Media we take in
Mentors
Movies we watch
Music we listen to
Philosophy we subscribe to
Politics in which we participate
Religion, spiritual practice
Role models
Technology of all sorts
And there are only a few! Each of us is probably part of dozens of systems, maybe more. And each of these systems has subsystems that influence us so there could be hundreds of systems tugging at our every thought and deed. For the most part, we are unaware of this influence. We make thousands of choices every day, seldom knowing why. If these systems are all functional and healthy, make our lives richer and easier, contribute positively to the well-being of our community (be it our family, our neighborhood, city, country or world) then great! But what if these systems having so much influence on us are less than healthy, less than fully functional. What if they are actually toxic or doing us harm?
Our systems have evolved over the generations since our forefathers and foremothers started them. Mostly, they evolved without much thought for what they were becoming. Most of the changes that occurred in these systems were matters of convenience, sometimes selfishly injected by people with power in the system who manipulated it to their advantage. Sometimes systems changed for a reason that has since vanished and is no longer pertinent. As a rule, no one watchdog has been tracking all these social systems over the generations to monitor their efficacy, their functionality. Basically, no one has been consistently caretaking these important influencers on which we rely for so much.
The scary news is most of the social systems on which we all rely and take for granted have devolved into slave masters. Many people, particularly in the Western industrialized economies, are finding themselves in servitude to the systems created to serve them, such as technology!
People don't say this, as a rule, however. They complain about being so busy while continuing to get busier. They may complain about any number of things or they may simply ask their doctor for an anti-depressant so they'll feel better. They can hardly be expected to examine the systems to which they belong when they don't even know they are there!
Emancipation from insidious systems cannot take place until 1. we learning to recognize systems dysfunction and 2. we become more aware of the various systems affecting us. We don't have to abandon our systems or leave them. We merely are seeking liberation from their negative influences through awareness and consciousness. Once we have learned how they behave and what influences they've had on our lives, we will be empowered to do something about liberating ourselves. Then we can choose freedom over servitude, conscious liberation over unconscious subjugation.
_______________________________________________________
3. NEXT MONTH'S EDITORIAL: "Living in a Tabloid Headspace"
4. QUOTE OF THE MONTH:
"Be ashamed to die until you have won some victory for humanity." – attributed to a Pennsylvania judge named Arlin Adams
5. HOT LINK OF THE MONTH:
International Museum of Women was originally founded as the Women's Heritage Museum in 1985. In 1997, in response to growing support, the Board began developing plans for a major museum in San Francisco and changed its name.
6. WANT TO BLOG?
My blog – "Exploring the Better Future" – is located at the Global Dialogues Center; take a look and post your comments. I'd love to hear from some of you subscribers!
7. "CLICK & PLAY" OF THE MONTH: (see Audio and Videos)
John Renesch teleseminar on "Beyond Reasonable Leadership" for IONS Shift (60 minutes